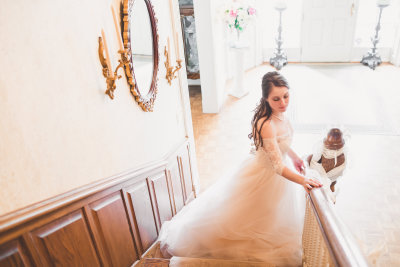 ​"When we were planning our wedding, many of the details had already been thought out and completed. Nonetheless, we still needed to have the remaining details reviewed and executed, such as aisle and table decor and the itineraries. We were so glad to bring these girls on board to assist us with these aspects of the wedding. Due to the large size of the bridal party as well as the wedding in general, it was such a relief to have the presence of their team to keep the group organized and help them with each of their responsibilities. They also coordinated with all of our other vendors and took tasks away from the Maid of Honor so that she could focus on the bride and enjoy the occasion herself.

There was an incident at our wedding where, as a bride, I was thankful that the mother and daughter duo were there to comfort me and remedy the issue. Everything turned out alright, but sometimes a couple simply needs kind attention and that's exactly what they provided. In addition to identifying and mitigating several day of situations, they were instrumental on rehearsal night and many late night requests during the planning as well. Thank you ladies for all your efforts and attention to us and our guests!"

"This duo was amazing. They brought their own day of emergency kit and were prepared for anything. They made my day go off without a hitch."

"Hayley and Jenny are fantastic! They helped me with everything I needed for my wedding and more. They thought of things I didn't even know about and they're so creative. I was very happy with the wedding and they were definitely worth the money."

"I had a southern-chic-themed wedding. These ladies made the process of planning my wedding completely stress free and they came up with amazing ideas to make it a dream come true. When I talked about their ideas for my day my friends and family couldn't wait to see it. The staff even designed my Save-The-Dates and took my engagement pictures, all of which I have gotten plenty of compliments about. They truly came up with everything to make my wedding a success. Knowing that I had them to help me with decisions and planning was extremely reassuring! I definitely recommend!"

"I am so excited to get to work with Fairytale Pursuits again in the future. Hayley is amazing, and will make sure your event runs smoothly and is stress free!"
~Sarah, Millie's Bakehouse, Vendor